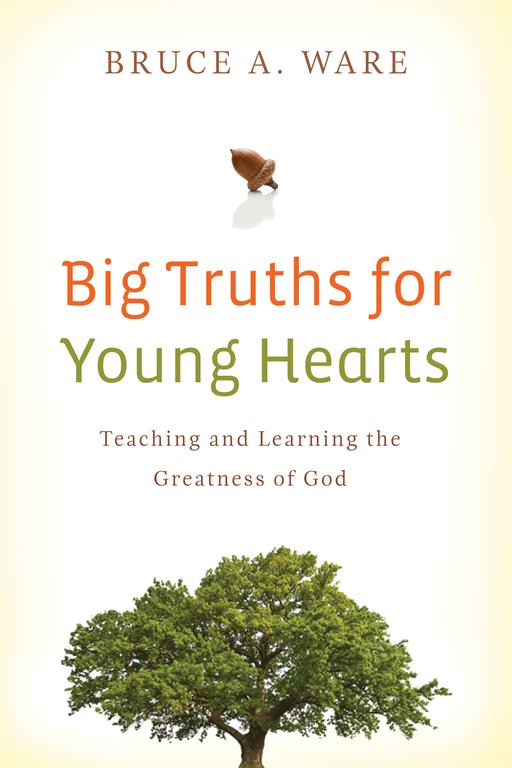 It's been a long time since I've written about books, and I'm so excited to tell you about this new book! One of the elders at my church, Bruce Ware, has written a systematic theology for children, at the request of his 2 daughters, who have sweet memories of their father's bedtime instruction to them. The Wares are dear friends of mine, and knowing their daughters as grown-ups is such an inspiration to bring up children in the fear and admonition of the Lord!
The new book is called Big Truths for Young Hearts, and is set up in short chapters, designed to be read at bedtime or family devotions. It canvasses the broad spectrum of systematic theology in 9 parts: God's Word and God's Own Life as God, God as Three in One, Creator and Ruler of All, Our Human Nature and Our Sin, Who Jesus Is, The Work that Jesus Has Done, The Holy Spirit, Our Great Salvation and The Church of Jesus Christ.
Here is what C.J. Mahaney wrote about this book: "Imagine a respected theologian devoting himself to training a new generation of pastors and scholars in the seminary classroom. Now imagine him driving home at night to teach that profound theology in simple terms to his children at their bedsides. Now imagine this father compiling those bedside conversations into a book available to all pastors, parents, and chidlren alike. Imagine no more. My friend Dr. Bruce Ware has done it."
This Friday at the bookstore where I work, Dr. Ware is coming to read for Story Hour! He's going to read from his book and sign copies (which we will have on sale), and afterward, I'm going to lead the kids in a craft project based on the selection he reads. If you are a reader from the area, please consider coming by with the kids. It will begin at 10:00 am.