Susie is a little artist. At about 18 months, she started drawing babies (that's what she told us they were) -- whole notebooks of circles with a line drawn down from them. Around 19 months she'd draw part of a face for you (like add a tongue to a smiley face you'd draw for her). By 20 months, she was obsessed with circles, and was drawing DARN good ones! She has always held her writing instrument correctly (except with sidewalk chalk -- too thick), and picks up on the instruction Josh gives her in a snap! The other night he was teaching her to do a tree and I heard her mutter to herself "line. . . line . . . scribble, scribble, scribble" as she tried to replicate it.
Susie drawing a face -- age 2
To encourage her in her artistic ways, I'm doing my best to expose her to great children's literature with great artwork. She's had quite a bit of that, of course, just naturally through the books she already reads, but now I'm being intentional to choose a range of artwork and ask her questions about the pictures after we enjoy the stories together. I also try to select something from the Caldecott award winners during our weekly library trips. Here are some of the books we've read so far (just been doing this for a couple weeks now):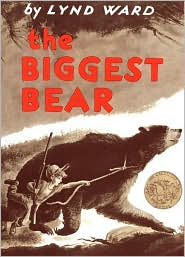 The Very Hungry Caterpillar by Eric Carle (an instant hit, of course! She's already asking for it back and we just returned it today.)
The Biggest Bear by Lynd Ward (VERY long, but she really liked it. . . I was a bit surprised, to be honest!)
The Little House by Virginia Lee Burton (she started drawing houses after this one)
Prayer for a Child by Rachel Field (I thought it was sweet and she's been quoting "let no danger come to fright" ever since)
The Three Little Pigs by David Wiesner (haven't read it yet -- but it doesn't look quite like my cup of tea. . . still, I want her to try out a range).
Count and See by Tana Hoban (love the black and white photographs -- so did Chip who joined us reading it -- and the urban setting of many of them).
A little board book of nursery rhymes illustrated by Tomie dePaola because she loves nursery rhymes and I like his illustrations.
SO MANY MORE I want to get! Do you have any favorite children's books because of the pictures?