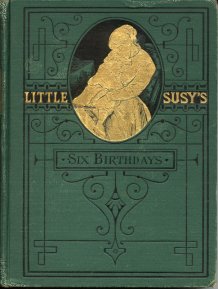 When I read a biography of Elizabeth Prentiss (author and hymn-writer in the 19th century), I was pleasantly surprised to discover that she wrote not only books for adults, but also for children. Even more pleasing, in my mind, was that her first popular children's work was a book called

Little Susy's Six Birthdays.

Oh! I thought, I'd certainly like to read that!!

Well, good news for me, I found it free online! Now, you won't get the pleasing cloth bound cover, which is precious indeed, but the online version does contain many of the original illustrations. I printed off the online book and spiral bound it to give to MY Susie to keep as a birthday memory book! My thinking was that I would put in pictures from her birthday each year and have her party guests sign their names by the chapter that corresponds with that year's birthday. And then, each year, we can read the chapters leading up to the birthday she is having, and read a NEW chapter ON her birthday.

This book is just so sweet and cute! I was nearly giggling aloud when I read how she portrayed the children -- it really was a delight. Here is the introduction:


TO THE CHILDREN WHO READ THIS BOOK

MY DEAR LITTLE FRIENDS:
This book was written on purpose for you. While I was writing it, I often said to myself, I hope this will please Mally and Willie! I wonder how Sarah and Louisa will like it? Then I thought that I would read what I had written, to a few children, to see what they would say. Because if it failed to interest
them,
I should be ashamed to have it printed and sent to other children. So I read it to several. Some of them were quite large children, larger than any of you; and other others were small. One of them was nine years old, and one seven, and one six, and one five; and when I saw them smile, as if they were pleased, I was very glad, indeed. And when one of them said she hoped I would print as many as
two,
one for her and one for her cousin, I felt still more delighted, and thought I would have one for everybody's cousin. A great many little Johnnies and Geordies; many little Nellies and Hatties, will read about Susy's birthdays. Wherein she was good, I hope you will all be like her; and then your birthdays will be happy ones. Sometimes little children don't live to spend six birthdays in this world. They go to heaven and spend them there; and they are better and happier days that any little Susy ever knew. But now I must bid you good-bye. Perhaps I shall write another story for you one of these days.
AUNT SUSAN
I'm so excited to have found this book to use as a special birthday book!! I'm wondering if any of you have birthday book traditions in your family? And in honor of Susie's birthday, don't forget to go here to enter my giveaway of Andrew Case's excellent book of prayers for parents. I'm also linking up to Feed Me Books Friday, so check out more book recommendations there!